Are you Looking for Best URL Shortener Scripts to start a Online Business? Our review of tested Codecanyon Long URL to Short URL PHP script/software brings you everything you need.
URL Shortener PHP script is used to analysis your URL and to make it short within no time. and, PHP URL Shortener software allow you to create your own URL shortening service. URL shortening is a technique used to reduce the amount of characters in any URL.
Best URL Shortener Script 2022
1. Premium URL Shortener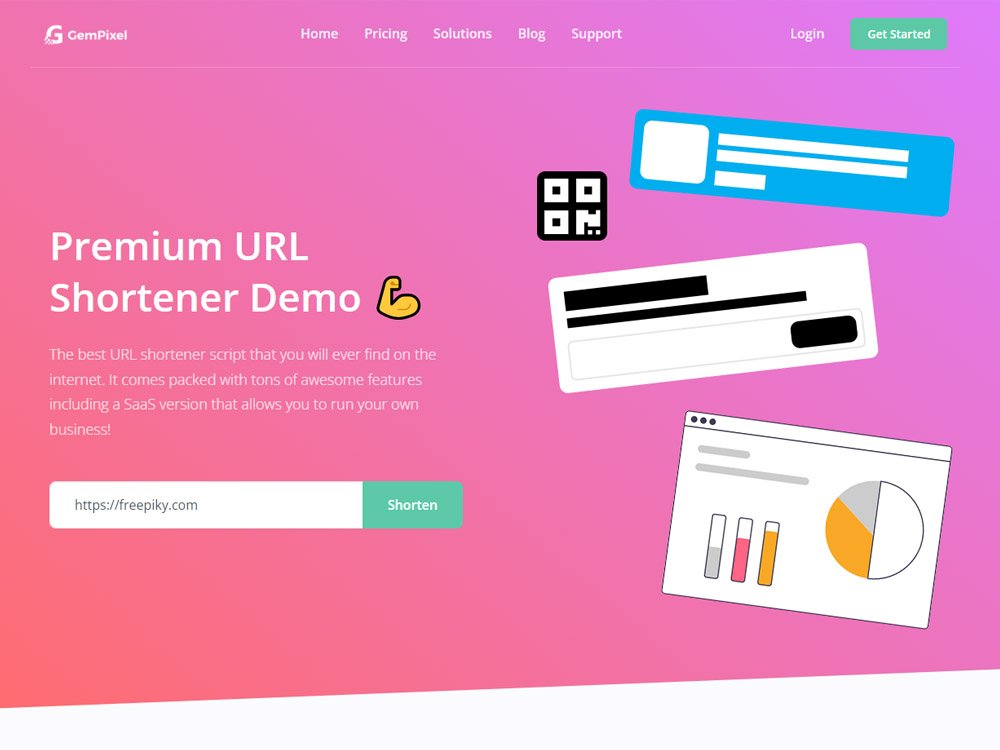 Premium URL Shortener – Link Shortener, Bio Pages & QR Codes is a PHP URL shortener software packed with many unique features. It allows you to shorten a long link into short smart link that you can use to monitor clicks and optimize your marketing campaigns. Some of the features include geotargeting, device targeting, premium membership, powerful dashboard and admin panel.
Custom Domain
Payments Stripe, PayPal, CoinPayments and Bank Transfer
Pixel Tracking
Geotargeting and Device Targeting System
Advanced API System
Facebook, Twitter or Google Login
Redirection Types Direct, Frame, Splash, Custom Splash and Overlays
Team Management
MORE INFO / DOWNLOAD
DEMO
GET HOSTING
2. BeLink
BeLink – Bio Link & URL Shortener Platform is the highest quality and most advanced URL shortener and link in bio creator available. It features a professional and modern design, high quality code and unmatched feature set.
Link Rotators
Create Multiple Workspaces Team Management
REST API for Website
Earn Money with Premium Subscription
Custom Domains
Statistics count of Clicks, Countries, Referrers, Devices and Browsers
Password Protection
Multiple URL Shortening
MORE INFO / DOWNLOAD
DEMO
GET HOSTING
3. AdLinkFly
AdLinkFly – Monetized URL Shortener is a GDPR compliant. Earn money by starting your own monetized link shortening service, just like adfly, ouo.io, or shorte.st clone scripts. It allow members to shorten links and earn money online, and keep a share of the profit. AdLinkFly includes publishers who are creating short links and Advertiser who are creating campaigns. It has multiple payment methods PayPal, Stripe, Payza, Skrill, Bitcoin, WebMoney, Perfect Money, Payeer, Money Wallet and Bank Transfer.
Interstitial and Banner Ads
Publishers and Advertiser Management
Referral System
Blog or CMS System with Built-in Comments
10+ Payments Method
Full Statistics by Month and Year
Admin Announcement to Members
Testimonials System
Multi domains for Short Links
Advertisers can pause, resume and monitor their campaigns
Developers API
MORE INFO / DOWNLOAD
DEMO
GET HOSTING
4. Mighty URL Shortener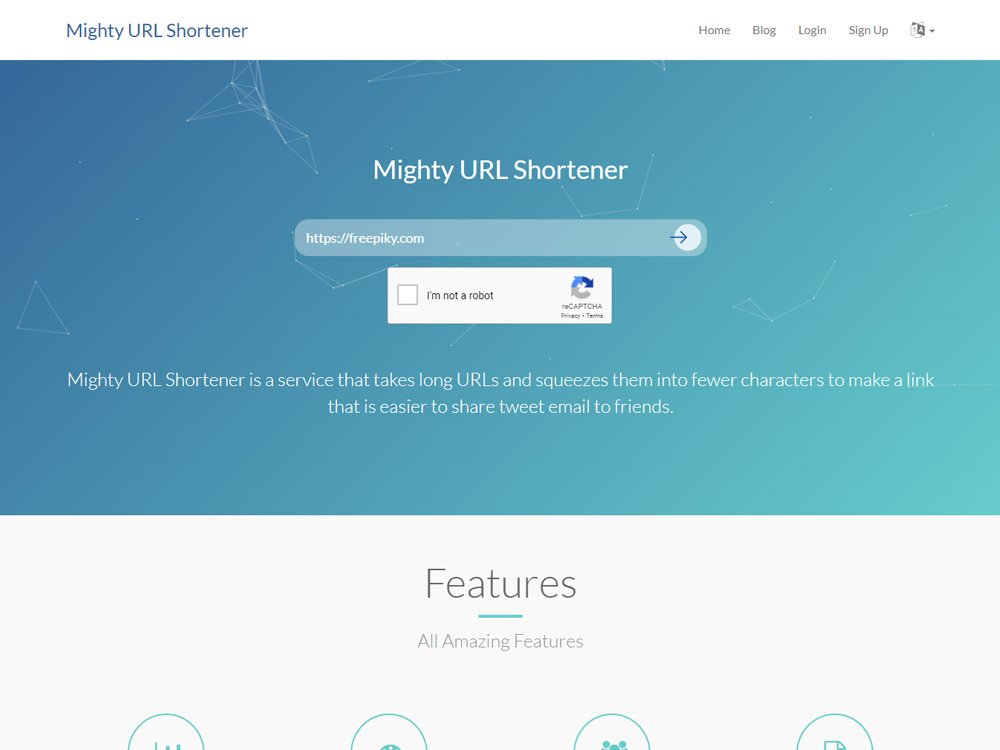 Mighty URL Shortener is a PHP script that takes long URLs and squeezes them into fewer characters like bit.ly and goo.gl. Our script has mighty features like Advanced Analytics, Targeting, Featured Administration Panel, Subscription Plans, Custom Redirect Page, Password Protect, Social Media Counts, Edit Created Links, and Advanced API System.
Smart Targeting
Analytics by continents, countries, states, cities, platforms, device, browsers, social media counts
11+ Payments method
Mass Shrinker
Add Unlimited Number of Domains
MORE INFO / DOWNLOAD
DEMO
GET HOSTING
5. phpShort
phpShort – URL Shortener Platform is an advanced URL Shortener Software, that allows you to Easily shorten links, target your audience based on their location or platform, and provide analytics insights for the shortened links.
Fully Automated Payment System
Coupons System
Redirect your Audience Based or Their Country, Platform or Language
Monthly and Yearly Plan
Powerful, Actionable SEO Reports
Dark Mode
MORE INFO / DOWNLOAD
DEMO
GET HOSTING
6. ShortLab
ShortLab – SAAS Based URL Shortener Solution that comes with PHP Laravel Framework. Users can join both Free or Paid, it's a SaaS platform. Free users can use this Platform with Limited features. Paid users are able to use almost Unlimited features like unlimited URL short facility, visitor, ads-free links, etc.
Deposit Money
Email, SMS Notification and Verification
2FA Security System
Strong and Powerful User, Admin Interface
Support Tickets System
20+ Automatic and Manually Payments Method
Easy Page Builder
MORE INFO / DOWNLOAD
DEMO
GET HOSTING
7. Biolinks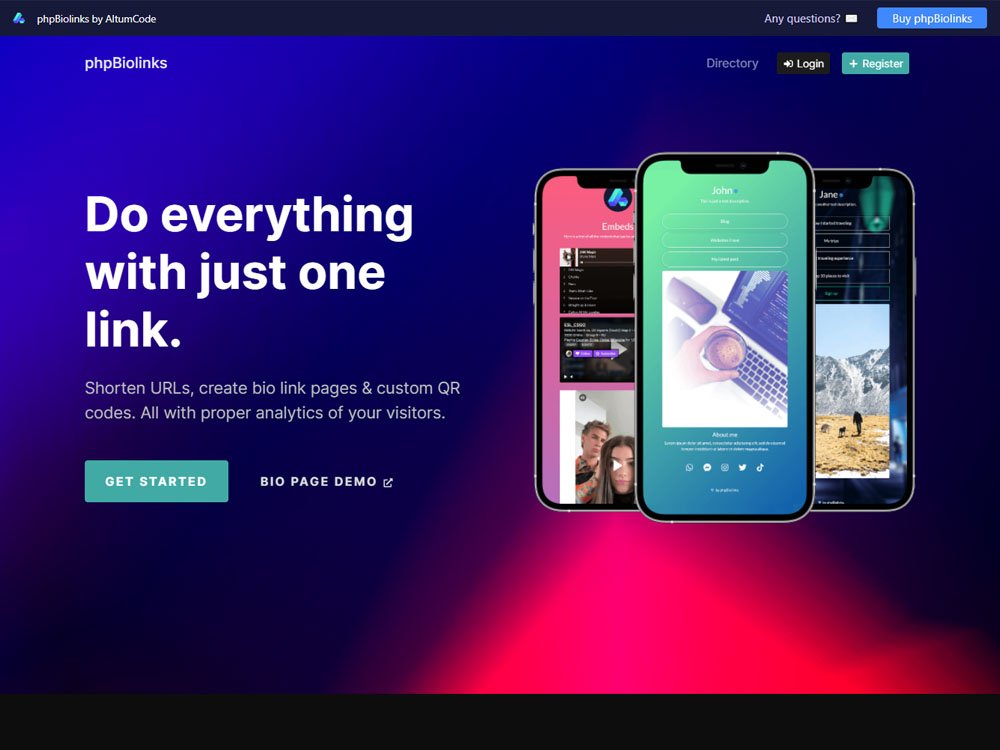 66biolinks – Bio Links is a TikTok bio link and a URL Shortener at the same time. You can only have one bio link per Instagram account. Make sure to make the most of it with a custom biolink page.
Unlimited Projects
Highly Customizable Biolink Pages
Biolink Pages Embeds
Highly Customizable QR Codes
Login With Facebook, Google and Twitter
Dark Mode
Free and Trial Plan Customization
10+ Payments Method
Multilingual Ready
MORE INFO / DOWNLOAD
DEMO
GET HOSTING
8. Laralink
Laralink – Powerful URL Shortener is a link shortener, which allows you to Manage links from a simple dashboard with advanced analytics. It allows users to create short links from other more complex and long URLs, in addition to allowing the analysis of visits from these URLs.
MORE INFO / DOWNLOAD
DEMO
GET HOSTING
9. ViserLink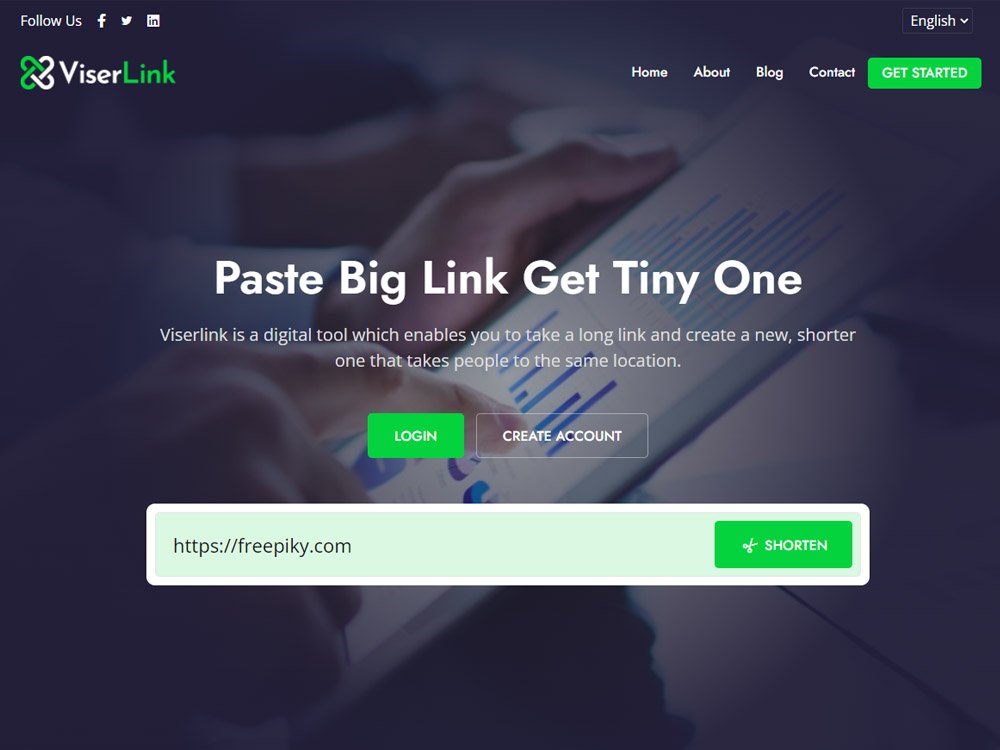 ViserLink – Ultimate URL Shortener is a Simple unlimited URL Shortener Solution that comes with PHP Laravel and Responsive design. All small and big companies now offer link shortener services. Viserlink, a simple Software for Short link business. Here, you can short unlimited big links to a tiny one. 20+ automated payments methods here.
Unlimited free Links and Visibility
Users Advertisement
20+ Automated Payments Methods
Page Builder
Security Captcha Included
Manage Transactions
Functionality is Simple all Dynamic Features
Short URL Report
MORE INFO / DOWNLOAD
DEMO
GET HOSTING
10. DoLinker
DoLinker – Ultimate URL Shortener Platform is a simple and efficient software for managing your URLs / links, with a user-friendly dashboard and advanced statistics for your links, in addition to the ability to monetize your links with third-party ads providers like Google AdSense.
Multi-Domain Support
Payment gateways (PayPal, Stripe, Bank Transfer, Bitcoin)
Multi-Language
User-friendly Interface
Developer API
MORE INFO / DOWNLOAD
DEMO
GET HOSTING
11. URL Shortener
This is an advanced URL Shortener service, which allows you short long URL. Users can share links in popular social networks or save link as a QR-Code. In addition, this application has an admin panel. You can easily customize any part of application.
QR Code System
Admin URL Management system
Auto Copy Button
Developer API
MORE INFO / DOWNLOAD
DEMO
GET HOSTING
Thank you for visiting Blogye and reading this "11+ Best URL Shortener Scripts" article. Now you might want to read our Best News Magazine PHP Scripts post.